~ Smriti Jha
The company is known for promoting employee wellbeing with services that include a health center, workstation ergonomics, fitness center, green commuting.  This is a vibrant workspace for the employees in every sense. Genentech eco- friendly workspace has earned LEED Gold Certification, which recognizes best-in-class green building practices.
The company says by creating an environment that supports health and wellbeing, we believe our employees will operate at their best.
The green building B35 was designed with the wellbeing of employees in mind. The company believes in the power of nature and, so the interior has been shaped accordingly.
Outdoor views and natural light make the employee feel energized and motivated while they are working. Walkways and stairwells give them a place to move and think, and neighborhoods of workspaces offer them places to collaborate.
Prioritizing ergonomics at work
For flexible workspaces, employees are provided with adjustable sit-to-stand desk, a high bar table, a couch, or an outdoor bench. These all give employees a sense of control, comfort, and choice in their workplace environment.
Office astonishing features like having the air in conference rooms monitored for freshness, accessible healthy food, and relaxation spaces help employees feel refresh and productive.
This adds to the happiness index of the employees that eventually soar up the work performance. Precisely, the business again!
Health, Fitness, and Well-being
Genentech employee is offered a number of health and medical benefits. These are designed to make healthy life of employees as well as their family. The company also offers health bank account where employees can save money for health and healthy life.
Health plans include Medical, Dental, & Vision plans
Employees can choose different medical plans. Each provides comprehensive medical and prescription drug coverage as well as mental health and counseling benefits. They are also offered two dental plans and two vision plans.
Employees Fitness
Employees have access to the hub that is the company's free, on-campus fitness center. For different location employees, the plan can be reimbursed for individual membership at local health clubs.
Health Savings Account (HAS)
The company offers HSA for employees enrolled in the high deductible health choice medical plan. This lets an employee use pre-tax dollars to pay for eligible out-of-pocket expenses and to save for the future.
Flexible Savings Accounts (FSA)
There are two FSAs that let an employee use pre-tax dollars to pay for eligible out-of-pocket healthcare and dependent day care expenses.
Easy commuting to ease stress at work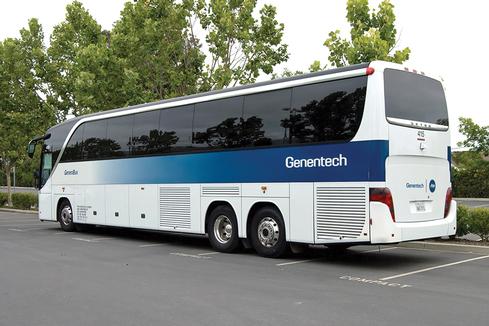 gRide
Genentech's employee transportation program, helps employees get to and from work stress-free. This saves time and money while maintaining the eco-friendly environment.
GenenBus service
GenenBuses provide service to several cities and frequent last mile service. Employees are reimbursed for their transit fares.
If the employees do not like to ride in a bus, gRide manages a robust vanpool program that provides incentives for employees who bike, walk, or drive carpools to work.
Going off to work
The company believes in dedication and hard work of employees, but at the same time, they believe in work-life balance too.
Genentech employees get 18 days of paid vacation each year, on top of a number of paid holidays, including our year-end shutdown. If employees have worked full-time for six years, they are eligible to take six continuous weeks off with full pay and benefits.
In addition to above all, Genentech provides a number of benefits to help employees focus on their daily work while maintaining good work-life balance. The services include-
Full-service cafeterias
On-site childcare
Educational seminars and learning opportunities
Tuition assistance programs (up to $10,000 per year)
Adoption and surrogacy reimbursement programs
Health and Wellness apps
Free counseling, financial and legal advice
Concierge and travel arrangements
On-site dental van for full-service care
Private rooms for nursing mothers
Sponsored employee sports teams
Discounts to area museums and attractions
On-site amenities including car wash facilities, bicycle repair, haircut services, and spa treatments
Contribute: Do write to us about any wellness program in your company that has led to noticeable gains for your employees, at smriti@fitgenix.in